THE 14TH FRENCH FILM FESTIVAL WEBSITE IS UP!
Journal / Our Work / 04.04.13
The prosperous unceasing collaboration between Mozaik and the French Institute of Athens continues with the redesign of the IFG (Institut Francais de Grèce) website.
The new clean cut and minimalist design by Mozaik has managed to improve usability and increase functionality while conveying the elegant structure of the French language and the quality of services offered.
This fruitful cooperation also inspired the creation of the new website for the world renowned 14th French film Festival that will be raising its curtains on April 4th at the Onassis Cultural Center of Athens and then be transferred to Thessaloniki from April 11th until April 17th. For a 3rd consecutive year the new website designed and developed by Mozaik showcases the festival in an entertaining and upbeat fashion engaging cinephiles and enthusiasts of French cinematography in an exciting exhibition of French-language Films.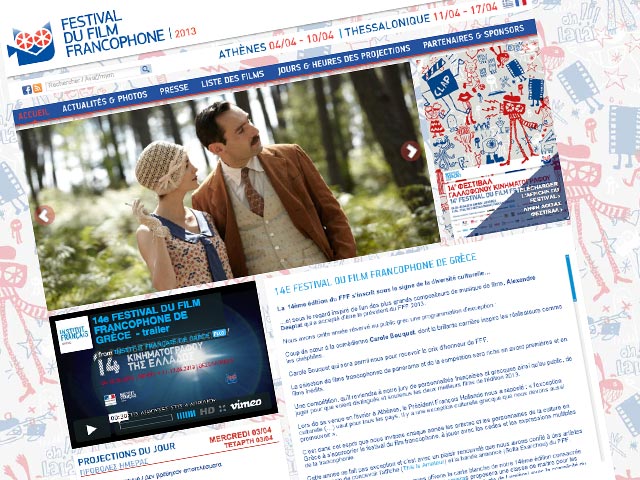 Functional layout, easy navigation and social media integration allow cine fanatics to keep track of the festival goings and follow events.  Mozaik welcomes you to join the 14th French film festival and enjoy the crème de la crème of French releases.
View Projects at: