THE UNLIMITED BENEFITS OF WORKING WITH A GOOGLE PREMIER PARTNER
Journal / Industry Insights, Our Work / 22.02.23
What is a Google Premier Partner?
A Premier Google Partner is an asset to every company that can help it set itself apart from competition. Premium Partners are certified by Google for their technical excellence, results and quality of service that comply to Google's high standards indicating a superior level of credibility and trust. Google's premium partners never cease to pursue the best advertising and marketing solutions that can help a company succeed and grow, increase performance, and return on investment.
While many businesses can become a Google Partner, only 3% of Google Partners are recognized as Premier Partners.
The experience, expertise and know-how of Mozaik's certified account strategists and the company's top performing actions in digital marketing have granted the company the prestigious Premier Google Partner badge. This badge certifies Mozaik's constant growth as an advertising agency as well as its successful management in international and high-budget Google Ads campaigns with impressive results. Mozaik's team of digital marketing and paid media experts enjoys access to exclusive campaign features and support that can help companies optimize their campaign strategies and deliver measurable results.
What is the added value of Mozaik as your Google Premier Partner?
Google Ads is just one channel in your Marketing plan. Mozaik can bring absolute consistency for all your Brands presence throughout all touchpoints. Physical and Digital.
When working with Mozaik you are assigned to a single expert that at first understands your Brand and your Business. This expert handles all of your marketing and advertising needs minimizing the time and effort required to collaborate with several agencies at once. Instead of having 4-5 external partners that you need to contact for every task, coordinate and oversee you can enjoy high-end personalized service for all your digital needs through a single point of contact.  Following a holistic and creative approach, Mozaik is a full‑service digital marketing agency handling all your digital and marketing needs in‑house. Our clients are enjoying the benefit to organize and plan a vast array of services related to Performance marketing, Digital Campaigns, Radio and TV and OOH Campaigns, Content marketing, Video production, Website Design and Development, Branding & Strategy, and many more through a single agency.
How a Brand can benefit from working with a Google Premier Partner
Work with Certified Experts
Premier Google Partners have been trained and certified in several fields of expertise and continue to renew their knowledge and skills on a yearly basis.
Beat your Competition
Google Premier Partners get access in new Google Ads Tools and Features before other advertisers. This way you will be able to run new innovative Campaigns and Ad Formats First.
Drive Performance
Premier Google Partners can help their clients achieve and sustain a successful Google Ad campaign performance and revenue growth. They specialize in generating conversions and increasing revenue.  All actions are therefore designed to boost leads and company growth.
Enjoy direct Support by Google
A Google Premier Partner can save you valuable time, money and energy as they handle all support issues directly with the Google Support team that is dedicated to their accounts.
Get Access to a World of Exclusive Privileges
Google's Premier Partners enjoy access to additional tools, workshops, training sessions, beta programs, updates and support getting all the insights to improve your results. They have immediate access to Google's latest trends and insights while always being up to date with the best practices in digital media as well as the latest products and features developed by Google.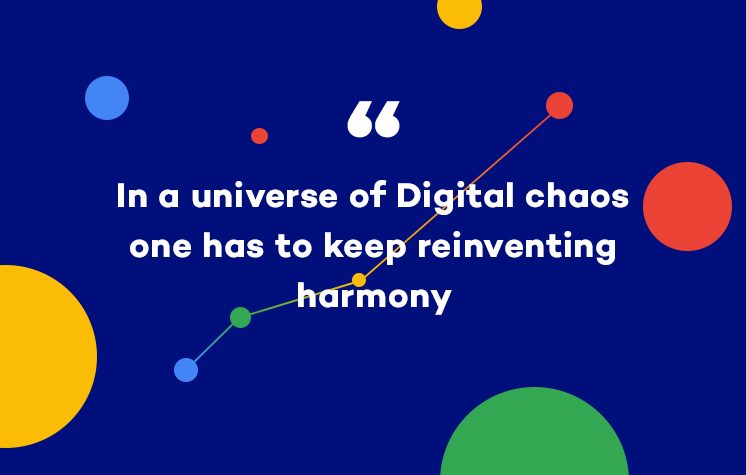 In a universe of Digital chaos, one has to keep reinventing harmony.
By choosing Mozaik as your Google Premier Partner you also gain a partner with deep industry knowledge that can support all your digital and marketing needs. Mozaik can effectively design, implement, control and monitor all needed marketing actions in house to optimally promote your company, build brand recognition, drive revenue and increase profitability.
360° Approach
Following a holistic approach to boost your business success, Mozaik helps you get the most out of your digital ad spend by handling performance marketing as part of your overall marketing strategy. With in-house access to all the resources and necessary knowledge Mozaik can provide you with the right tools and solutions to facilitate your company's growth.
Full Service
By keeping all required marketing and advertising actions, performance marketing, social media management, web production etc. in-house, Mozaik has full control and supervision of every account. This allows its clients to enjoy on-time, within-budget and stress-free service.
Client Centric Solutions
With advanced knowledge and skills in various fields of business, Mozaik understands the complexity of a client's business environment and unique individual needs. Working together with each and every client Mozaik designs customized, client centric solutions that guarantee results and save time handling the entire process from implementation to monitoring and evaluation in-house to ensure the effectiveness of its actions.