AGROVIM LAUNCHES A NEW GENERATION WEBSITE
Journal / Our Work / 20.11.19
Passing down from generation to generation, from its first launch as A. Gyfteas SA in 1964 and as AGRO.VI.M. S.A. since 1994, Agrovim has grown into a leader in olive oil production in Greece and main olive oil exporter to 50 different countries and 200 customers around the world.
Based in Kalamata, Messinia, known for its high quality olive oil, Agrovim has expanded its wings through continuous strategic investments and hence its productivity and line of products becoming a major competitor in the international scene of olive oil always staying true to its original vision, to offer high quality products and traditional flavors.

Following its expansion and modernization, Agrovim needed a new website that would reflect its new persona, progress and purpose, clearly showcase its line of products, become a reliable source of information about olive oil and increase brand awareness.
Mozaik answered the call with an attractive, innovative and contemporary website that would appeal to a global audience and propose a fresh look and feel for the brand. Inspired by the colors of olives and olive oil, the brand-new website highlights the greatness of nature which is also depicted in the imagery and animation effects of the olives and olive leaves. Modern, playful yet utterly professional, the new website conveys the company's long-lasting heritage, legacy, years of experience and know-how while providing a friendly navigation experience.
The company's signature brand Iliada as well as its other brands and product varieties are clearly featured in the website making it easy for distributors, retailers and end customers to learn about any product they desire in the fastest and most enjoyable way possible. The website also features information and data about the company, encyclopedia insights and olive oil recipes giving visitors the chance to learn all they need to know about olives and olive oil, their production and use.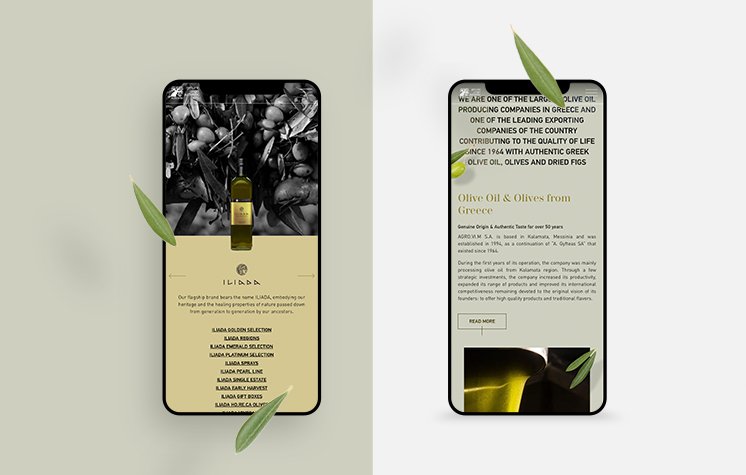 By creating a conceptual website bringing out all of the company's advantages, Mozaik succeeded in distinguishing Agrovim from its competition while clearly communicating the company's mission, vision and values.
Agrovim makes a comeback with a new generation website. See for yourself. www.agrovim.gr