MOZAIK INTRODUCES THE NEW DIGITAL FACE OF BONFIGLIO BUILDERS
Journal / Inspiration, Our Work / 26.03.20
Bonfiglio Builders LLC, based in North Carolina, is a home builder company specializing in custom home constructions and restorations. Standing out for being the most approachable and personable custom builder in Charlotte, Bonfiglio Builders LLC needed a new digital identity that could convey its personalized approach and knowledge-based building efforts.
Mozaik was selected to carry out this project into execution due to its unique design aesthetics and "out the box" point of view, as Bonfilgio Builders LLC decided to follow a road out of the ordinary so as to differentiate itself from its competitors.
A fresh new website would clearly showcase the company's forward-thinking approach and pleasantly entice all the young professionals being the majority of its clientele.
Calling upon its years of expertise, Mozaik proposed a total digital makeover for Bonfiglio Builders LLC including the conception, design and development of a new brand identity and website.

Inspired by the company's role in the building process, being the mastermind connecting the dots between the architects, designers, sub-contractors and suppliers, Mozaik designed a new logo for Bonfiglio Builders LLC reflecting the company's strong building network. The geometric shapes are intertwined with the owner's initials and a set of lines clearly portraying the company's line of business. A minimal and distinctive logo, with clean lines and bold colors, yet with a warm character, triggering a sense of familiarity. Overall, the brand identity showcases the company's personalized approach, professionalism, trustworthiness, and reliability.
Following the modern logo, the fresh new website is minimal and attractive with impressive animations showcasing the company's personal approach, USPs and advantages in the most delightful way. Easy to use and navigate the brand-new website of Bonfiglio Builders LLC features an Advantage page communicating the fun, approachable and yet reliable character of the brand as well as a Process page telling the story of the way they work. The company's portfolio is beautifully presented, highlighting the areas of focus in each particular project. The main idea coming out of both the new brand identity and the website is that Bonfiglio Builders LLC is not just another custom home builder company in Charlotte but a small, family-oriented business investing in its client's vision. Someone you can trust while going through the stressful process of any kind of construction.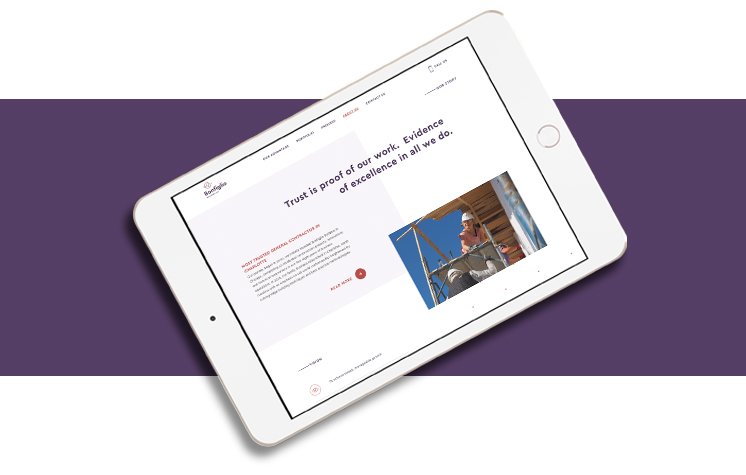 Wishing to provide access to all, Bonfiglio Builders LLC strongly requested that their new website is designed based on the ADA Compliant requirements with keyboard navigation options, proper color contrast and wording elements ensuring that individuals who are visually impaired can access the website and easily browse through it.
Check out the New Digital Face of Bonfiglio Builders LLC here: https://www.bonfigliobuilders.com/