GRECIAN LIVING UNVEILS A FRESH NEW WEBSITE
Journal / Industry Insights, Inspiration, Our Work / 28.05.20
Active in the field of healthy eating, Grecian Living based in Greece produces and distributes foods of high nutritional value and quality that range from gluten and sugar-free, to foods without preservatives or trans fats. By employing traditional Greek recipes and modern technological methods, Grecian Living has managed to become a key player in the healthy food market.
Inspired by its dedication to healthy living, Mozaik undertakes the design and development of the company's new online presence. A fresh new website to be used as a comprehensive product catalogue revolving around the new slogan "The Taste We Love", as Grecian Living outperforms its competition due to its healthy yet very tasty products.
The idea behind this initiative is to offer everyone, even people with gluten or lactose intolerance or simply people who prefer a healthier lifestyle free from genetically modified substances and additives, the option to enjoy flavorsome meals and snacks without restrictions.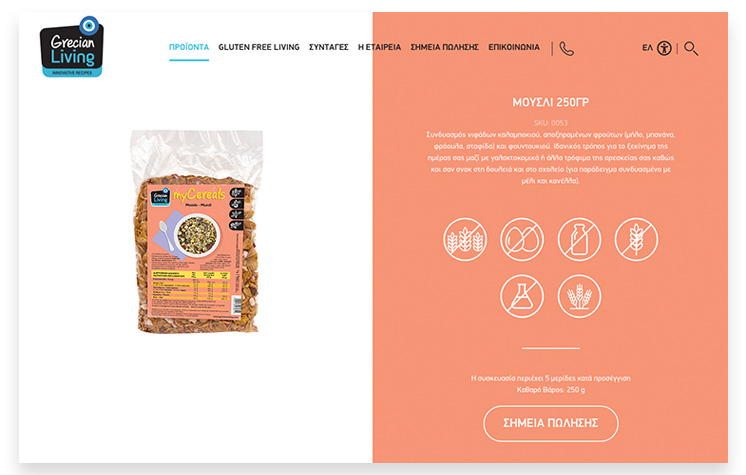 The Greek, healthy culinary heritage is reflected in the colors of the brand and throughout the website with the blue and white adding a sense of origin. The fully responsive website from desktop to mobile also provides a reader-friendly layout with color nuances and contrasts that support the unique needs of visually impaired users according to the standards of level AA of the Web Content Accessibility GuidelinesInformative and useful, it has been set up as a product catalogue offering easy access to products by category or type of consumption, making it easy for users to be directed to the range of the product of their desire fast and easy.

All products offer a complete and detailed description of their nutritional value, ingredients and technical specifications and are accompanied by healthy recipes.
There is an entire section dedicated to Gluten-Free Living with thorough information, insights, tips and nutritional suggestions.
Recipes cover another important section of the website with suggestions for all hours of the day, breakfast, lunch, dinner, snacks, desserts and meals in general of high nutritional value that can be prepared with Grecian Living products.
The interactive store locator allows visitors to find out quickly and effectively which products are available per location throughout Greece.
The fresh new website of Grecian Living aims to offer easy access to healthy living through a great number of high nutritional value products while informing visitors of the healthy benefits of a nutritious lifestyle.
Adopt healthy living today here. https://www.grecianliving.com/