MOZAIK SIGNS THE NEW LG CORPORATE CAMPAIGN 'WE CARE FOR WHAT YOU LOVE'- 'ΝΟΙΑΖΟΜΑΣΤΕ ΓΙΑ Ο,ΤΙ ΑΓΑΠΑΣ'.
Journal / Industry Insights, Inspiration, Our Work / 12.05.22
December 2021. LG trusts Mozaik with the creation of the company's corporate communication strategy. One of the brief's main objectives was the company's need for a new corporate communication campaign, that would highlight & represents its values and expertise.
February 2022. Mozaik comes up with a structured & solid corporate communication strategy, explained through the digital campaign proposal 'We Care for What you Love' ('Νοιαζόμαστε για ό, τι αγαπάς). The idea behind the campaign was inspired by the evident insight that LG is making advanced technological products to make everyday life easier. Products that will make Life Good. Breaking it down even more, the creative team who was working & brainstorming for the cause, came to the realization that what the meaning of 'good life' differs from person to person and, also, that how one perceives life is essentially based to their senses. It Is what one chooses to see, hear, touch, taste, or/and smell (/breath).
This became the starting point for the creative team. The 5 senses through which we perceive life around us, combined with the fact that LG's products are made with respect to the human senses.
LG cares for our senses and in extension for how we perceive life through them. With that in mind and with the belief that what makes life good, depends on one's needs and on what one enjoys/loves, the campaign started to take its form and the 5 senses played a crucial role on that. Isn't' it true that we all understand the world through them after all and also that each and every one of us, with our totally unique character and spirit, we have a totally different opinion of what makes life good, according to our preferences and according to what we enjoy and love? The choices that each one makes, play an important part on that. And the choices that one makes are driven from that perception of the world that one understands through their senses.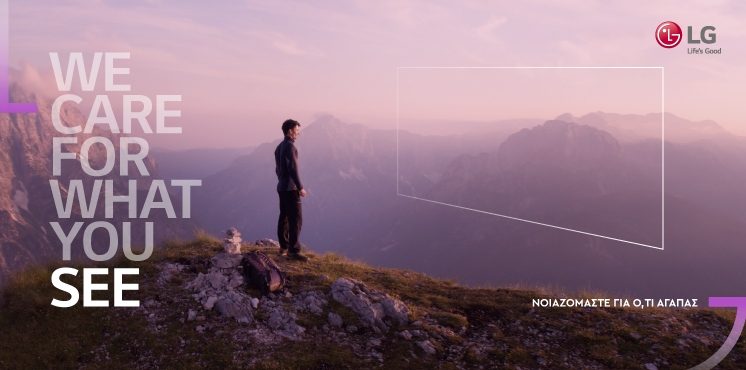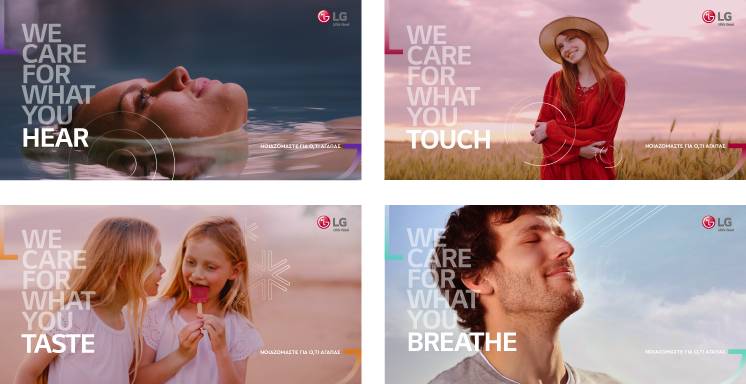 The campaign was created for Digital use, so the storytelling unravels through a long 1-minute YouTube Video -produced by Cinecreed and Directed by George Molvalis- (www.youtube.com), that is also cut and edited in 5 shorter videos, one for each sense : www.youtube.com
Together with the videos, a series of programmatic banners and Social media ads were made, aiming to lead the audience to the dedicated microsite in which the whole 'We care for What You Love'-manifest, was explained (https://www.lg.com/gr/campaign/wecareforwhatyoulove).