MOZAIK PRESENTS THE NEW CORPORATE WEBSITE OF LAMPSA HOTELS S.A.
Journal / Our Work / 21.11.18
The Lampsa Hotels S.A has been one of the oldest operators of luxury hotels in Greece since 1919 renowned in the field of hospitality and tourism for the emblematic hotel Grande Bretagne, the luxurious King George hotel, the Hyatt Regency & the Mercure Excelsior Hotel in Belgrade and the Sheraton Rhodes Resort in Rhodes.
Aiming to carry the company's prestige, luxurious appeal, historical background and heritage into the modern era, Lampsa Hotels S.A. has assigned Mozaik to redesign and redevelop its corporate website in order to cope with all advancements and applications of the digital epoch.
The idea was to communicate the company's purpose, vision and values while showcasing Lampsa's corporate background and upscale services through a user friendly interface.
After thoroughly studying Lampsa's values and mission Mozaik came up with a design that was aligned with the company's prestigious character, history and roots. Through a minimal, modern and elegant design, inspired by the gold and white colors of the company's logo, Mozaik succeed in displaying Lampsa' long-lasting tradition and valuable expertise through up-to-minute technological upgrading.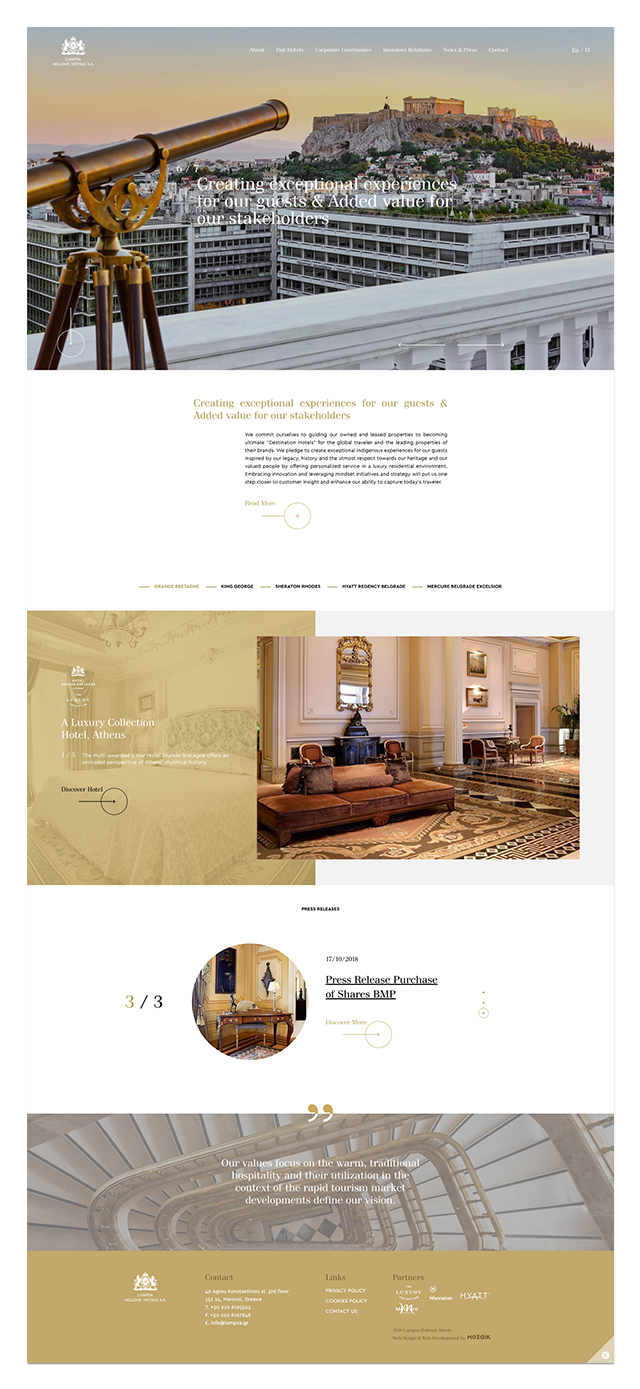 The San Serif fonts and smooth animations enhance the viewer's perception of the brand while creating a fresh look and feel. Fully responsive and easy to browse, Lampsa's new corporate website can easily adapt to tablets, smartphones and desktops ensuring a user friendly and functional navigation experience.
By visualizing the company's four pillar values and setting a new visual communication tone, Mozaik envisioned a transition from the past to the present and future expressing the company's extensive business horizon and exceptional indigenous experiences provided.
Welcome the new era of Lampsa Hotels S.A.: www.lampsa.gr