GRACE HOTELS GROUP RE-VISITED BY MOZAIK!
Journal / Our Work / 12.09.13
Persisting to the fruitful collaboration with Grace Hotels Group that was inaugurated back in 2006 with a targeted logotype design and a series of branding and digital applications and websites, Mozaik returns with a new online strategy for the brand.
The concept: Welcome to the World of Grace
The approach comprises not only in a new hotel portal that includes all Grace Properties throughout the globe but also a substantial Search Engine Marketing strategy that would reinforce the brand's online awareness and effectively contribute to boost the commerciality of the properties.
The portal smartly incorporates the different brand colors of each hotel and provides for a tailor-made presentation keeping the main elements of the navigation in unanimity to enhance UX.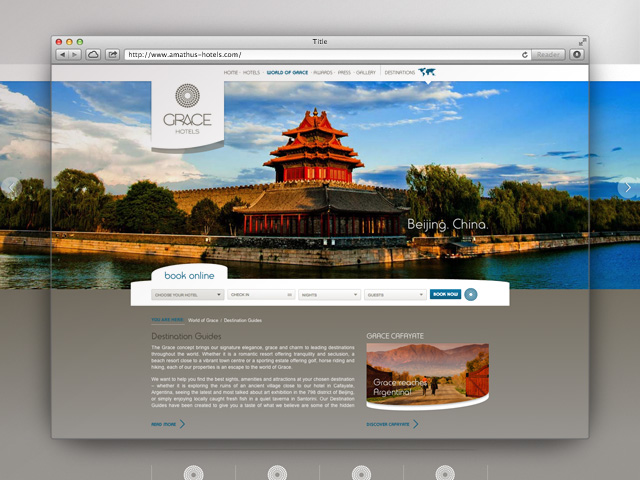 The variety of promotional banners combined with the extensive banner management utility in the back-end offer endless promotional and cross-selling options for the group and all hotels' pages.
Additionally, Mozaik managed to incorporate the digital application of Bespoke Services Request from the individual hotel websites right in the main content management core of the new portal. In the exact same core the revised mobile version will be hosted drawing data from the main website.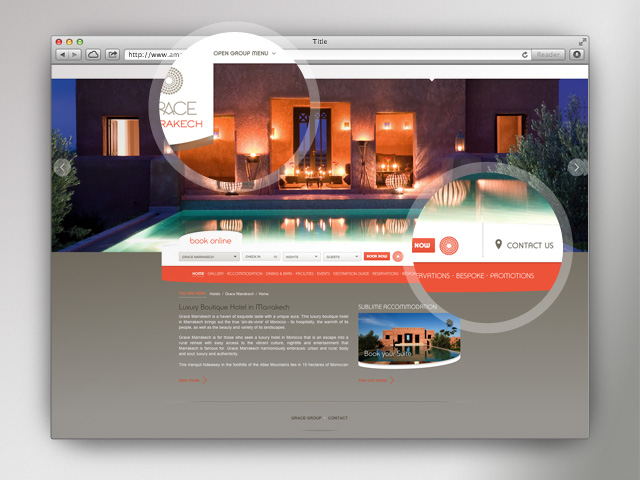 The peak technology used to make this venture come true sums up in the following main elements:
– HTML5 & CSS3 with CSS3 transitions & animations
– Fluid width layout to support all screen sizes with minimum width of 960px. (fits to iPad screens)
– Content and various elements caching (images, CSS, JS) to reduce loading time
– Ajax technology for loading dynamic content such as "view more" in awards with Google friendly content (Ajax crawlable)
– Custom maps implementation for the Destinations page and Google Maps API tailored for the group's needs
– A flexible and complete Content Management System that enables the website's administrators and users (multiple profiles with multiple rights' level available) to:
Perform updates in the website's content including texts, images, reply messages, forms' fields, maps' details
Create new (submenu) pages and add content by using templates (and not actual pages) making the website fully dynamic with use of deep links
Manage and enable CMS users
Extensive banner management utilities spanning from banner content to link titles (e.g. Book Now)
Integrated individual Bespoke Forms which can be edited and sent through the same dashboard
Revised Mobile version content included in the website's CMS
Apart from the new website, Mozaik has crafted an efficient SEM strategy that takes the individual websites' performance further ahead by managing Online Marketing metrics, performing revisions and re-crafting a new approach to fit the brand's needs and positioning.
A challenging venture to successfully incorporate the individual entities into one not only as concerns single technical elements (URL redirections) yet of vital importance but as a whole: Grace Hotels are all now under a common roof that respects and makes the best use of their individual traits to boost evolution of them all, having as their indispensable ally Mozaik's Online Marketing expertise.