KIMI STRIKES AGAIN WITH A NEW DIGITAL PRESENCE
Journal / Our Work / 17.05.17
Kimi SA is a family business that was established in 1984 and has now passed to the 3rd generation of the family taking machine rebuilding and reconditioning solutions to the next level. As such the company's website had to also correspond to the company's advanced technical capabilities and vision and convey Kimi's improved and expanded business.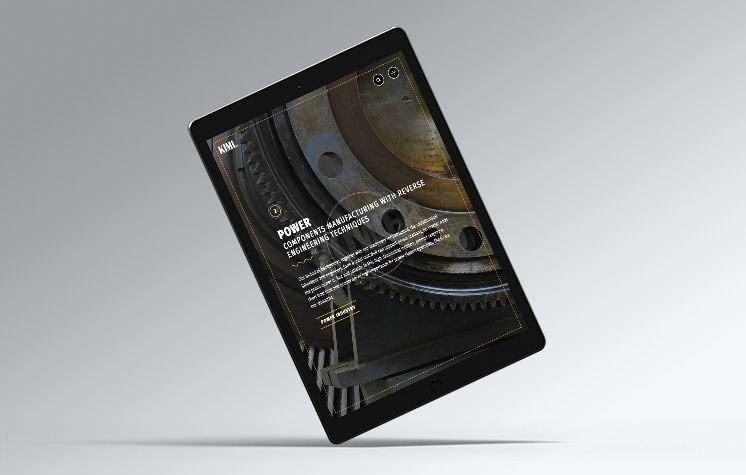 Mozaik undertook this challenging project, turning the once, basic company website to an virtual innovative presence showcasing in a brilliant way Kimi's experience, expertise and expanded line of work.
Beginning with the homepage and the intro video highlighting the 3 major pillars of Kimi's repair business in the fields of marine, power stations and refinery, visitors are immediately drawn by the advanced technological and engineering solutions offered by Kimi S.A. The moving 3 line-cycle of the design reflects the 3 fields of business as well as the continuous movement of a machine; the never ending lifecycle of a part, an engine or a fleet of equipment that are produced, repaired or rebuilt, restored and reconditioned to start the life cycle all over again.
The services of the company are introduced on a screen by screen basis within a fixed framework following a color coding that represents the 3 fields of business, bordeaux for all Corporate functions, blue for the Marine services and yellow for the Power Station and Refinery services.
The new, easy to navigate and fully responsive website features many images to convey the company's several fields of expertise, some captured in circle frames to promote the life-cycle process in any operation. The watermark, animation and parallax effects simply communicate the flexible, stylish and innovative character of Kimi while the dark colors used throughout reveal the company's professionalism, solid technical background and high quality of service.

Keeping the same stylish look and feel in all pages, the new website reintroduces the company's new innovative approach aligned with the latest market needs and technological trends in machine repair.
Check out the new innovative website of Kimi S.A.: www.kimi-sa.com