MAX STORES RAISE THEIR MASKS
Journal / Our Work / 15.02.18
On the occasion of the Greek Carnival MAX STORES decided to launch a new advertising campaign promoting the great variety of costumes available in their stores. MAX STORES is a famous toy store also carrying all kinds of school books and stationery items. The challenge was accepted by Mozaik who turned this advertising venture into a visual experience that the children can relate to, an experience that they would want to be part of.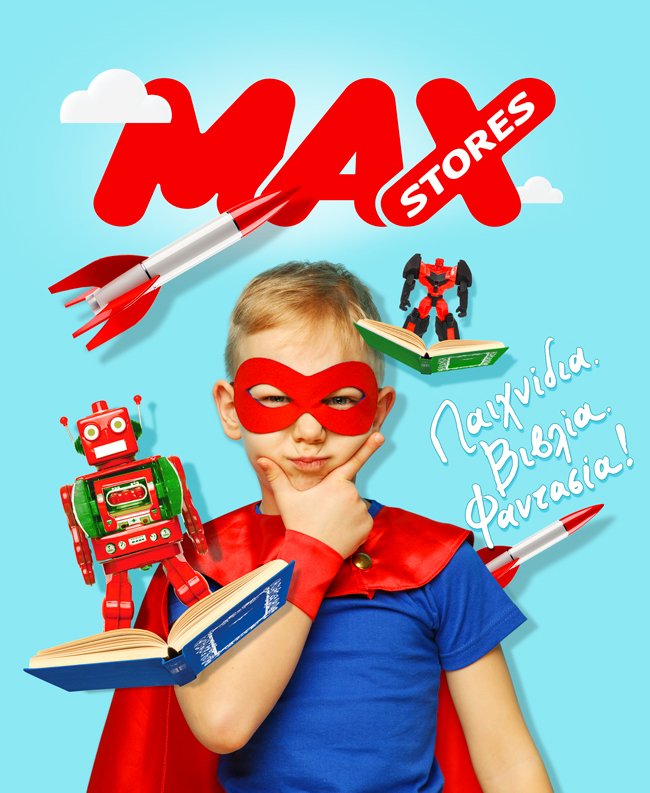 Comprising of two separate videos, MAX STORE's advertising campaign targets respectively young girls and boys that dream of being something unique at some point in their lives.
The first video focuses on boys that have limited time to save the world and so they have to decide on their special powers before it's too late. Whether they decide to be a ninja for a day, a police officer or a superhero, choices are endless, just as their dreams and possibilities.
The second video was dedicated to young girls, always dreaming of being beautiful, sparkling, mysterious, powerful, respected. A mermaid in the water, a princess in a land of ice, a policewoman keeping things in order or a stewardess reaching for the stars. The videos created for the carnival showcase a world of endless possibilities, just like the children dream of it, the world of MAX STORES.
Both videos are part of a greater digital campaign and incorporate the company's new motto envisioned by Mozaik. Toys. Books. Imagination. MAX STORES believe that if you give a child a toy or a book you may leave all the rest to his own unique imagination just as seen in the videos through several graphic elements. The way that children comprehend and break down the information that they receive through all their senses is beyond our understanding and that's where the magic happens.
Stay tuned as the first corporate video for MAX STORES will soon be released by Mozaik.