WAVEMOTION LAUNCHES NEW E-SHOP
Journal / Our Work / 06.02.18
Aiming to ride the wave of the digital era, WaveMotion assigned Mozaik to develop a new e-shop that will enhance the overall online experience for all visitors.
Exclusive importer and distributor in Athens, Greece of consumer electronics, telecommunications and products related to the computer industry for over 35 years, WaveMotion, stands out for its cutting edge technology, high aesthetics and modern design.
Transferring these competitive advantages to the digital universe, Mozaik succeeded in designing and developing a brand new e-shop showcasing the company's areas of expertise.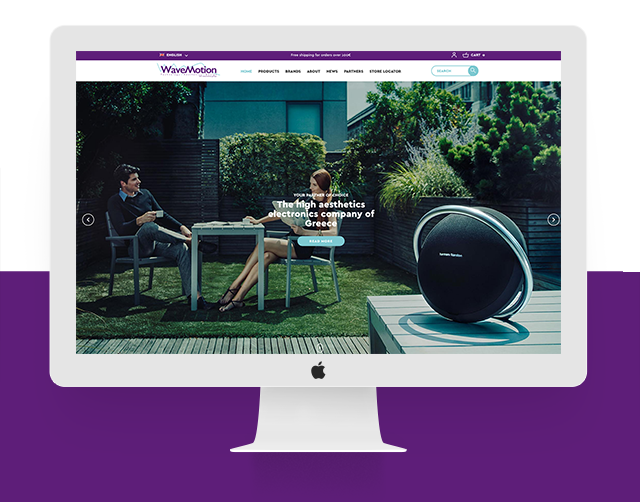 Large images of living spaces adorned with high-tech electronics showcase the advanced technological solutions right from the start. The color palette, inspired by the brand itself reflects the high-energy of the waves, the elegance and professionalism of WaveMotion while the modern, fresh and minimal design conveys the intriguing blend of innovation and high aesthetics.
Specially designed for B2B buyers with limited time to spare the e-shop features an optimal site format with fast loading times that is easy to navigate and use. Both the brands and products featured in a straightforward menu are clearly listed and described in detail making the browsing and purchasing experience an easy and stress-free task.
Connected with an ERP, the WaveMotion e-shop offers a valuable, efficient and safe shopping experience for both its partners and customers alike.
Visit the new e-shop of WaveMotion and ride on top of the waves of high-end electronics.