A RENEWED & ADVANCED PRESENCE FOR GENIKI PANELLADIKI
Journal / Our Work / 10.01.19
40 years after its founding, Geniki Panelladiki decides to make its way into the new digital era with a brand-new website, corporate identity and advanced services.
The idea behind this venture for Geniki Panelladiki was to upgrade its corporate identity and digital presence while following a more modern and premium aesthetic. The creative journey began along with Mozaik who gladly undertook the development of a new brand identity, a new logo, slogan, branding tools and a fresh brand positioning.
The new corporate identity was inspired by the company's new vision and values: transparency, integrity, reliability, innovation and development and so did the rest of the branding tools, the iconography, logo and slogan, "Always with you, wherever you are", a strong statement reflecting the true essence of the brand.
The company logo is based on the initial letters of the brand G and P being Γ & Π in the Greek language. The letters are linked together creating a connection, a puzzle that has been twisted 45 degrees to the left depicting the company's motion, progress and development. In blue and gray, the colors conveying trust and professionalism, the logo creates a bold statement highlighting the integrity and reliability of the brand.
Just as the logo, minimal, simple and clear, the Averta Regular and Bold Fonts were selected to add a fresh new look and feel to the website and to be used for other purposes so as to maintain a coherent brand image.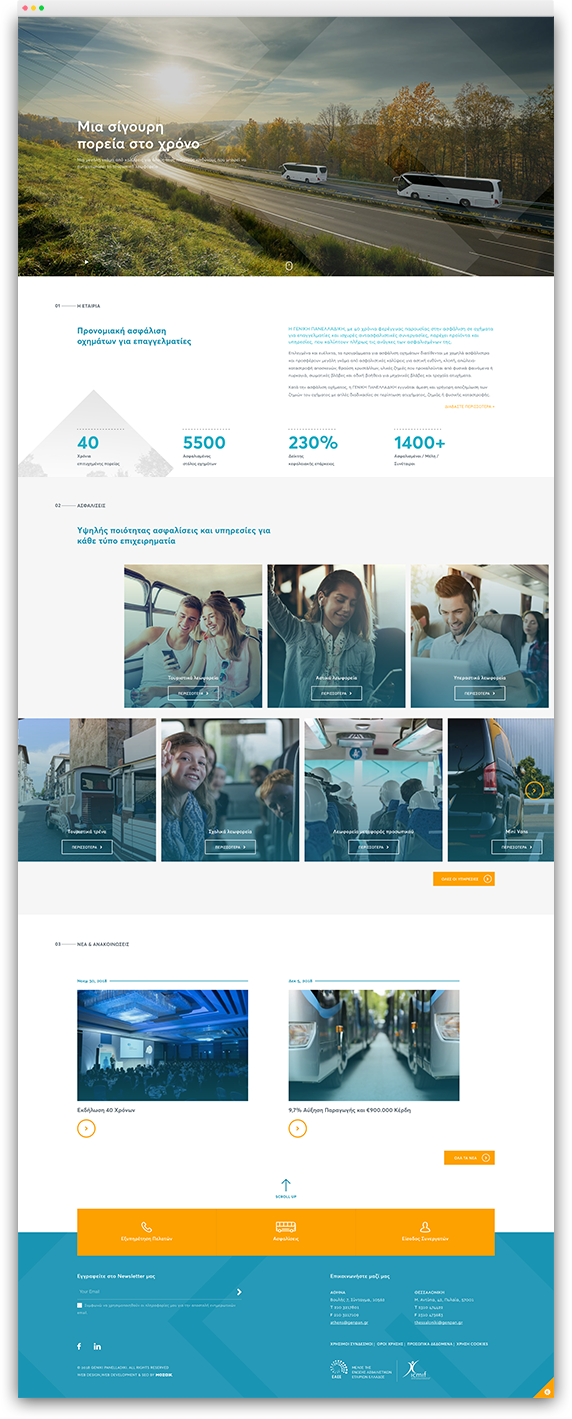 The new corporate video also reflects the company's mission, vision and values while communicating the overall feeling one can acquire when doing business with the company either as an employee, a partner or a client, the feeling of safety and trust whether found on an open road, a traffic jam or a difficult crossing, and the idea that there is always someone you can count on.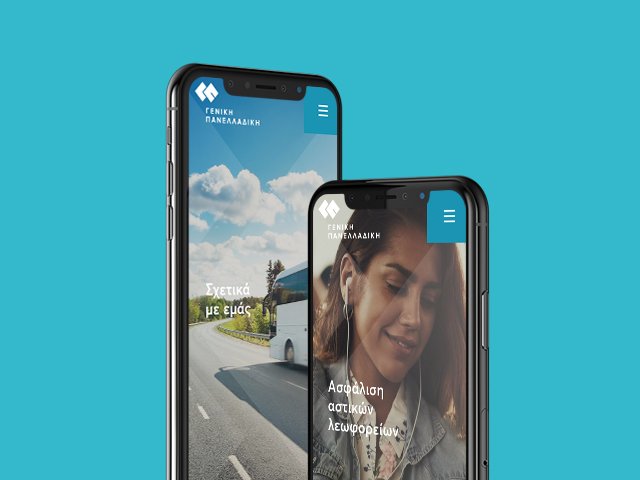 Concerning the company's new website, a new information architecture and structure was implemented in order to smooth the flow of information and ease the navigation experience. An advanced website structure had to be designed to showcase the company's values, products and services in an appropriate manner as well as distinctive animation effects emphasizing on the functionality of the website. Fully responsive with a minimal, straightforward design, the new website follows the values and guidelines of the corporate logo.
Beside the corporate id, logo, slogan, website design and development Mozaik also undertook the photo shooting of company employees in order to convey the value of a great workforce.
Check out the renewed presence of Geniki Panelladiki here: genikipanelladiki.gr