Back to Projects
Athens International Airport
Every moment the clock is ticking away, a new journey begins and a different destination is reached...
WORKING TEAMS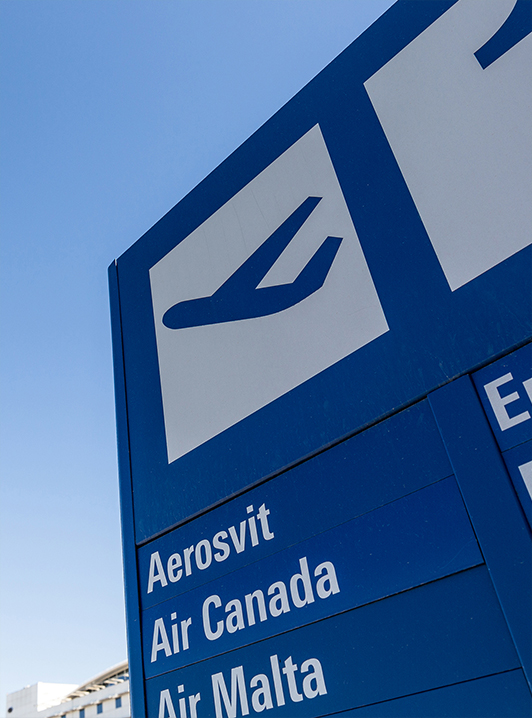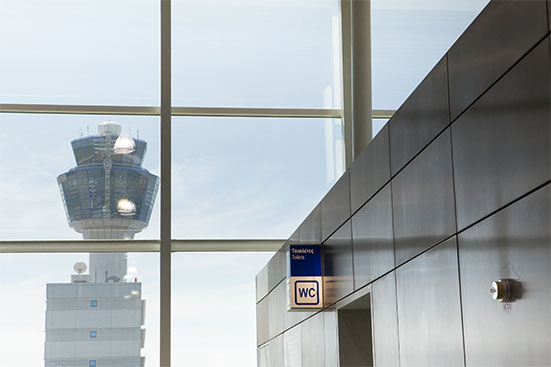 CLIENT
Established in 1996, Athens International Airport Eleftherios Venizelos, the first greenfield airport, is a pioneer international Partnership between the public and the private sector operating in both aeronautical and non-aeronautical segments. Since its opening, AIA has succeeded in positioning itself as a leader in the development of domestic, regional and international traffic.
BRIEF
A new website that would empower the brand's image, enhance e-airport experience, extend site's browsing time, promote Athens and Greece as a destination, target and navigate the right person to the right information and increase leads.
SOLUTION
An original, leading, cutting-edge website of "A Live Airport", a welcome and "farewell gate" for travelers that visit Athens and can use it as their first touch point to find necessary travel information. The new website features a clean-cut design with emphasis on information and usability offering a steady digital experience through pictograms, iconography and graphics. Initially, the time lapse video of the airport and of major attractions of Athens allowed the intro-welcome page to function as a traveling and business gateway promoting Greece's position as an exceptional destination. The challenge was to handle a heavy-information website with a minimal and straightforward approach so as to avoid chaos, "educate" the user on how to reach information and deliver an amazing user experience through an expandable sitemap and Quick links. The size had to be resizable and responsive at the same time with custom web fonts and more than 150 tailored pictograms used to minimize the loading time. Even the advertising area of the website was especially designed to grab user's attention without distracting navigation, turning every visit into a smooth and pleasant experience. The awarded result triggered us to further implement the "live airport" concept and bring the digital experience into the actual setting of the airport and vice versa with a network of info points, intranet applications and other digital interfaces within the premises of AIA.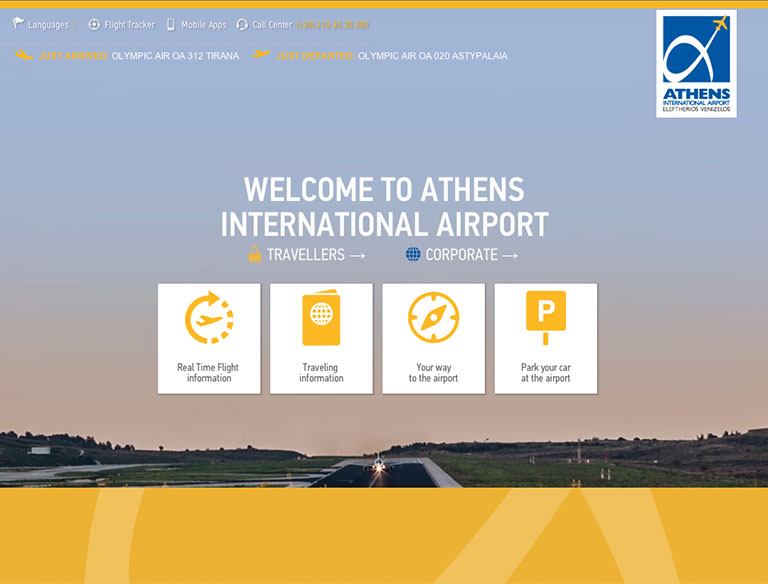 The AIA app was redesigned to be brought in line with the new website and convey the same look and feel, enhance the user journey and overall experience and promote the new flight tracker feature and retail section of the website.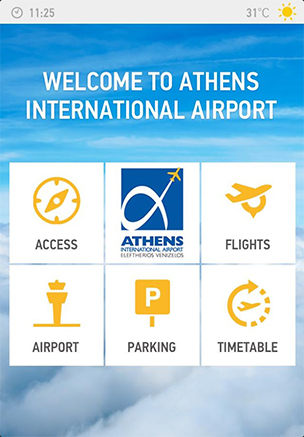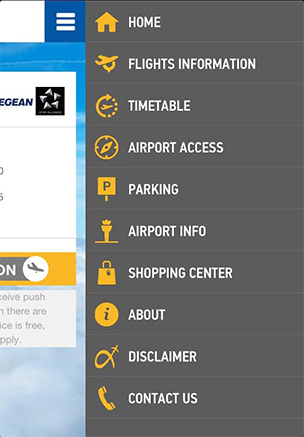 Athens Spotlighted Website
Furthermore, in collaboration with Athinorama, Athens International airport provides travelers with a free discount city card that they can use for a variety of services at selected spots all over Athens. A programme also known as Athens Spotlighted. Following the entire AIA website redesign, a boost was given to the Athens Spotlighted website as well. The new Athens Spotlighted website promotes the different business categories and entries and features contemporary visuals and google maps API to further ease the navigation experience.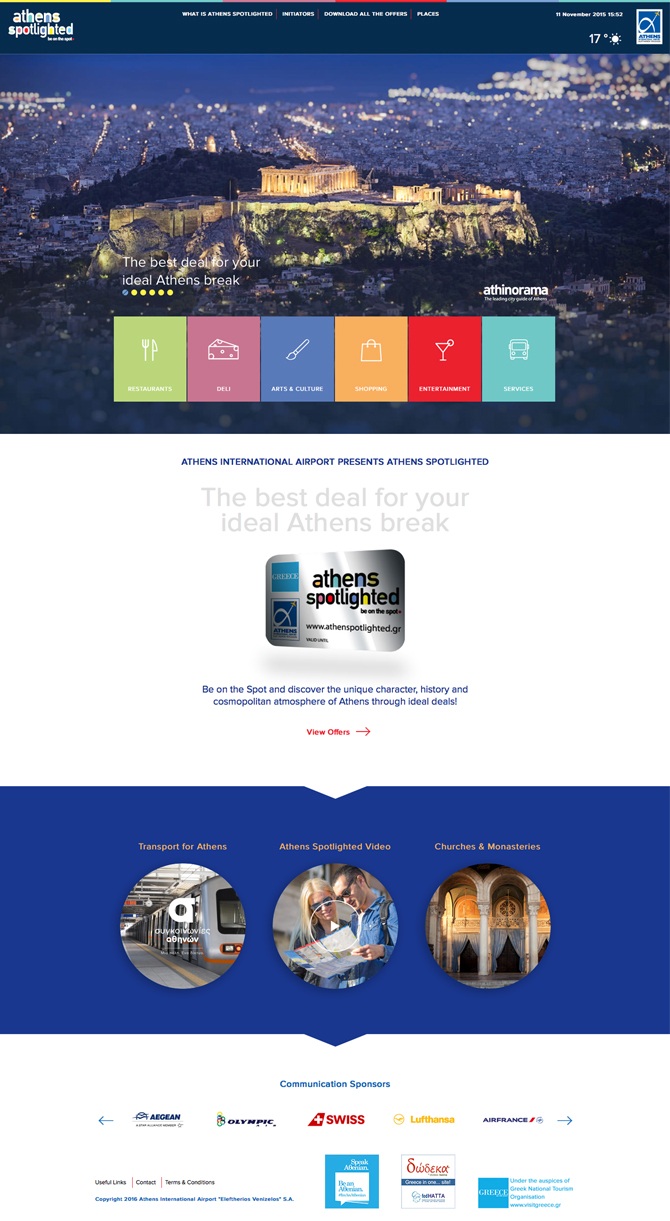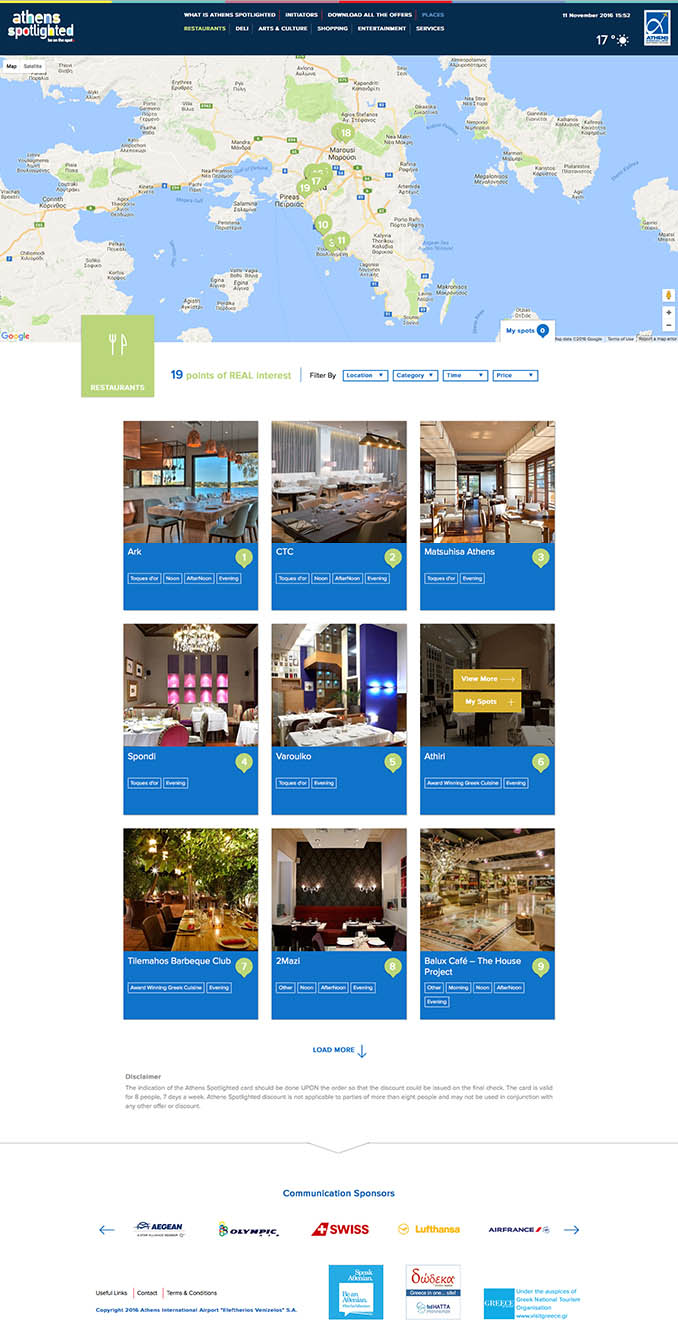 Through the info points found in several areas of the airport, both inbound and outbound travelers can acquire all information needed through an easy to navigate vertical or horizontal touch screen display. The info points feature bright and bold colors to separate different information categories and large clickable areas for ease of use.